Become a Certified Xmind Master
There have always been a lot of users who are active in the Xmind community, sharing experience and helping out each other. To show our respect to the contribution these users have done to the mind mapping world, Xmind is launching the "Become a Certified Xmind Master" (CXM) program.
CXM Benefits
You shall enjoy the following privileges.
Lifetime free for Xmind Pro.

Always enjoy the latest version of Xmind Pro lifetime for free.

30% OFF for your invitees

With a special coupon code, your invitees can enjoy Xmind preferential treatment anytime anywhere.

Outstanding profile on xmind.app

A CXM badge will be displayed on your profile page on xmind.app.

Introduce you on our Blog

Some of your wonderful experiences about using/training Xmind will be posted in our blog or SNS.

Higher priority on your feature requests/suggestions

We will provide a delicated email where you can send your feature requests/suggestions anytime.

The latest updates and information

You won't miss any valuable information about Xmind, and you will be the first to taste the latest versions.
Who can apply?
If you're a/an
Xmind mapping trainer

Doing mind mapping training online/offline, and using Xmind during the teaching process.

Mind mapping blogger or writer

Having your own blog or website to introduce mind mapping and Xmind.

Xmind community active user

Answering questions in Xmind forum, Blog, SNS and other communities to help more people use Xmind better.

Author of more than 30 featured maps in Xmind Mind Maps Library

Sign in with your Xmind ID to view your featured map
How to Apply?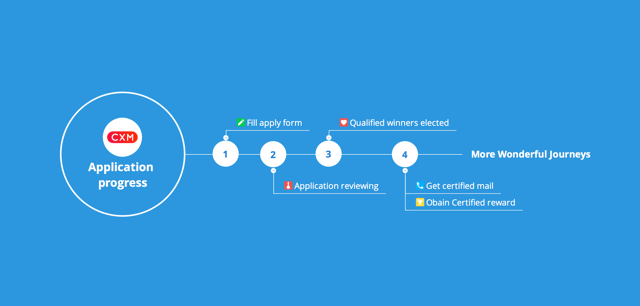 To become a Certified Xmind Master, you just need to fill out the application form and submit it. Then we will take care of the rest. Qualified candidates who pass the certification will be noticed through email ASAP.
Note: Certified Xmind Masters(CXM) are not Xmind employees, but they are required to comply with the CXM program requirements. A CXM maybe a trainer, blogger or consultant who earns reward from his clients, or may earn compensation based in part upon his clients' purchase of Xmind Pro/Plus and other products. Xmind has no role in the relationship between a CXM and his clients.

The Company reserves the right to change these terms and conditions at any time without prior notice.
Join us and start an exciting journey with Xmind.