A Very XMind Valentine's Day
A Very XMind Valentine's Day
Photo by Priscilla Du Preez on Unsplash
A heart is not judged by how much you love, but by how much you are loved by others. - Frank Morgan The celebration of love and romance falls on the 14th of February of each year. Though not a public holiday, Valentine's Day is still an opportunity for us to truly reconnect, sharing and giving to the real meaning of the day.
We would love to help you to walk into the footprint of the Valentine, tracing back its story with eyes, embrace its fragrance, and, the core of this festival - to share your feelings to your loved ones.
---
The Footprint of Valentine's Day
The origin of Valentine isn't set in stone, you can still find various stories, and legends of it. Since it's somehow mysterious, so we've collected and listed several of them down in Horizontal Timeline.

The horizontal time axes in the graphs reaffirm its lineage, makes chronology events setting more natural. The sequence of from left to right represents the past until the present, leaving readers a portrait of the elapsed time.
Except using it to record a historical event or a brief biography of a historical figure, Horizontal Timeline is also a memory lane for your loved ones. You can mark each unique moment so that you can recall them or look back the past while standing in the recent point. Have a try to make your very own memory album for him/her for your next anniversary.
The Scent of the Valentine's Day
As mentioned in the last mind map, lovers expressed their love by presenting flowers in the 1700s, it was in the Victorian era that the art of expressing emotions through different types of flowers with symbolic meaning.
Rose is always the first choice for Valentine's Day. The red blooms the street, casting on the romantic veil. Except for roses, what are the other options for expressing love? How can I make my bouquet stand out among others?
No worries, we've listed top 10 flowers for Valentine with symbolic correspondent meaning so that you can secure the best blooms.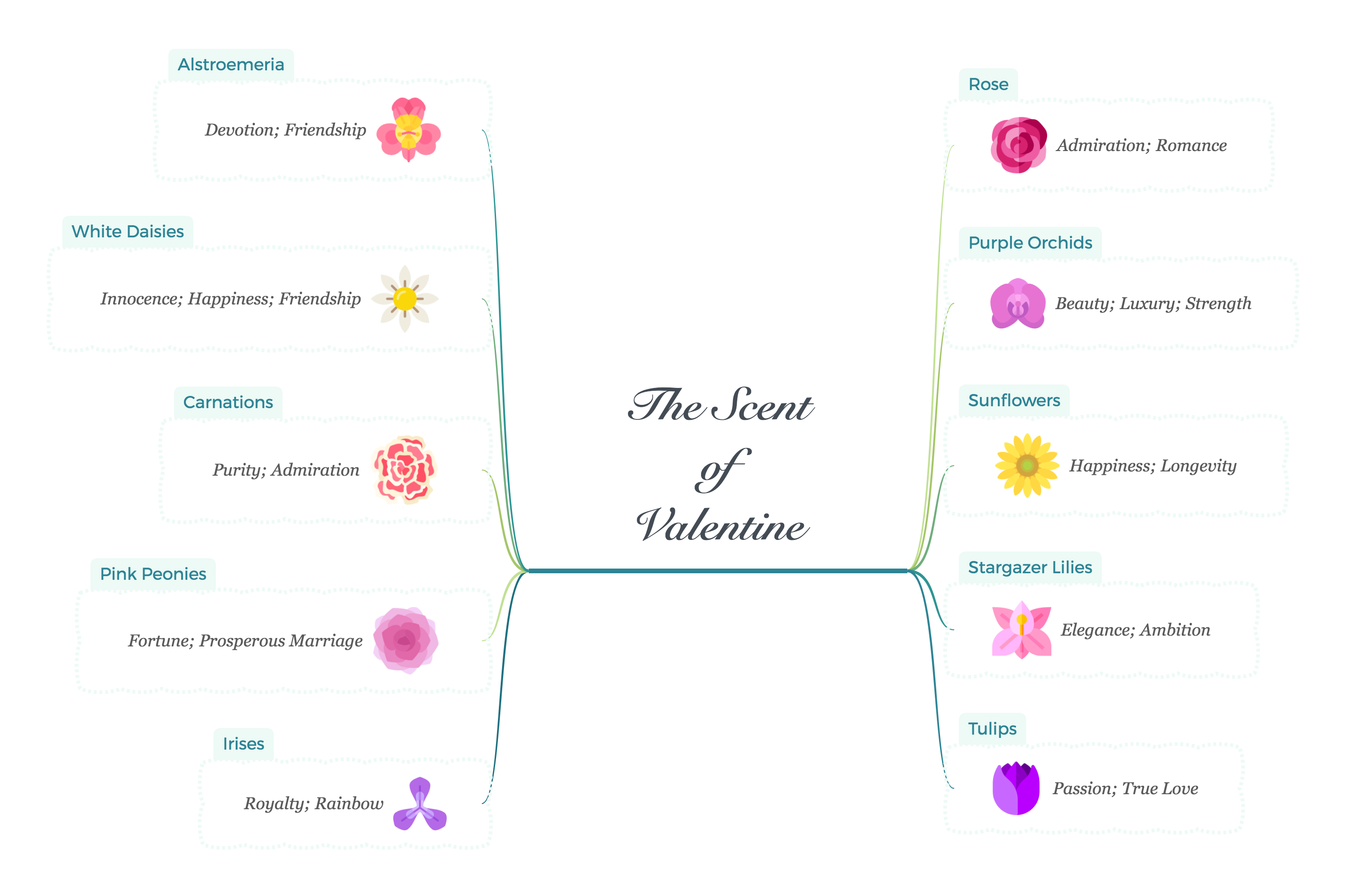 As a basic structure of mind maps, Balanced composition is a diagram used to organize information, displaying relationships visually. It is also an effective way of making a shopping list, pack-up list, to-do-list, etc. Demonstrate each and every topic, or sub-topic clearly, so that you will never miss or omit a thing. Try to manage your gifts with the help of Balanced structure.
The Word of the Valentine's Day
Shakespeare once said, 'Speak low if you speak love.' But keep your tone and expressed your love to the caring ones.
There are roughly 6,500 spoken languages in the world today, but when talking about love, we always tend to bring out the most profound feeling inside our hearts. We've listed ten ways of saying I Love You with Floating Topic.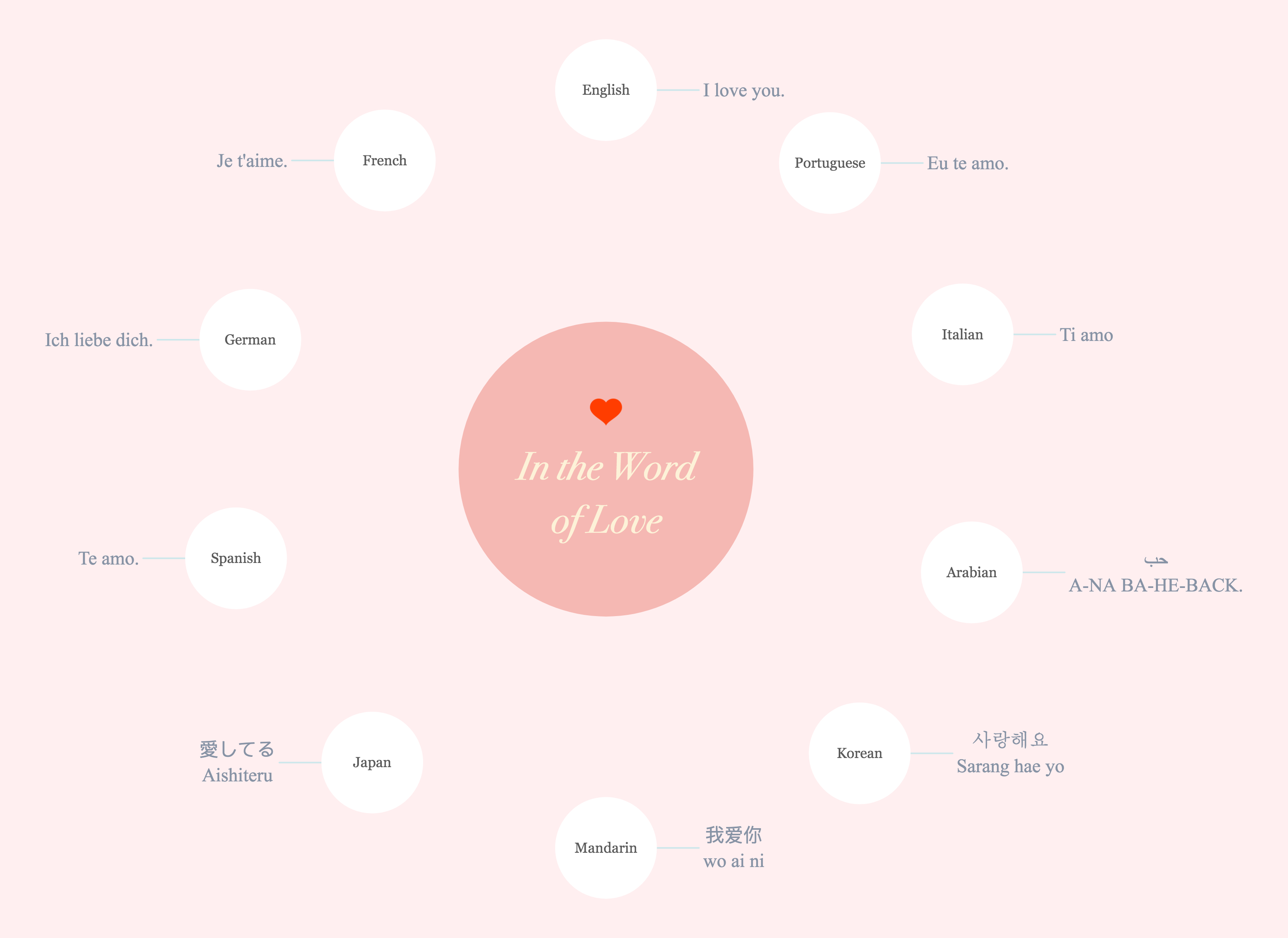 Floating Topic is a way of creating mind maps with your very own layout. Connect topics with a customized format, fill the background with colors and place the topic in a designated spot. In XMind Library, you can find how users use floating topic to create their mind maps world.
We love you, XMind users, no matter where you are.
Happy Valentine's Day!