XMind 2020 or XMind 8 Pro? It's not a problem.
XMind 2020 or XMind 8 Pro? It's not a problem.
Productivity tools boost energy, and XMind has been dedicating on mind mapping just right for different scenarios. In the past years, we released 2 products:
XMind 2020, an amazing brainstorming tool and a new favor.
XMind 8 Pro, a classical mind mapping tool for over a decade.
It's hard to say which one is better or superior, and the best tool is the one that meets your need. We will go through the highlights of these 2 products, and it's your choice to give it a try.
---
Start From the Appearance
Let's have a look at how these 2 tools present the mind map with the same structure.
XMind 2020
XMind 8 Pro
Feel the difference? XMind 2020 is modern and chic, while XMind 8 looks classic and grounded.
XMind 2020 employs a whole new Snowbrush Engine, offering stable performance yet with aesthetics. With all new UI - Cream, you can edit mind map intuitively. we also used our original typeface - NeverMind, allowing you to enjoy its aesthetics when editing or reading your mind map.
XMind 8 Pro is built based on Electron. That's why it's a bit of nostalgia, but even today, it is not outdated at all. The instructions are clear, and you just can't stop clicking the icons for the features.
Structures and Templates
Both XMind 2020 and XMind 8 Pro covers various structures, including map, balanced map, org chart, timeline, matrix, etc. Hmmm, even a combination with different structures.
Speaking of templates, both XMind 2020 and XMind 8 Pro are well-prepared, and in different styles.
In XMind 2020, the sturcutres and templates are combined together, you can preview them at the same time. You can change the theme, or structure easily.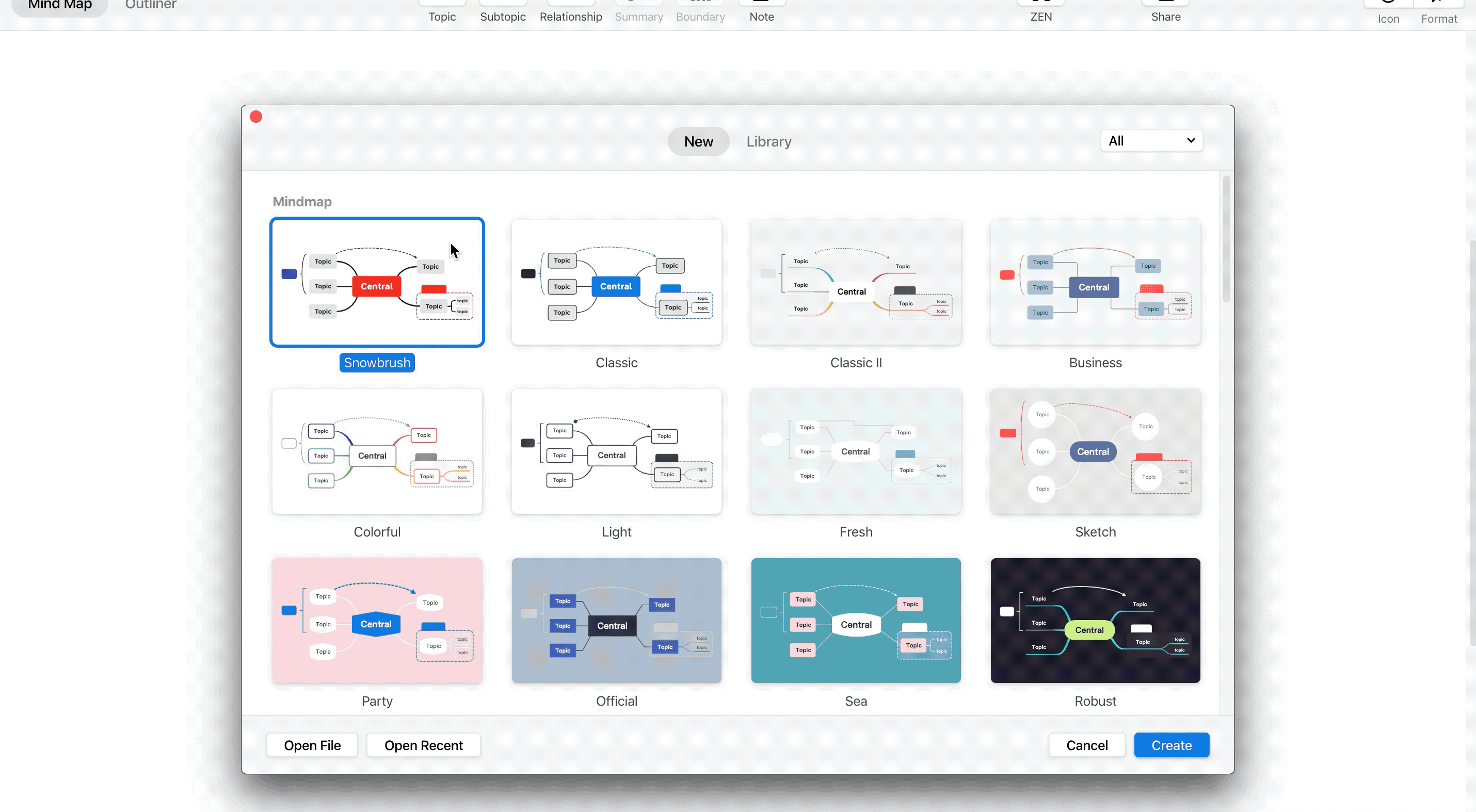 Templates in XMind 2020
In XMind 8 Pro, you need to click the structure first, then select the theme.
Templates in XMind 8 Pro
Feature Highlights
XMind 2020 and XMind 8 Pro bring complete features that allow you to jot down every idea, and collect inspiration. You can freely jot down your ideas in main topic, then develop it in subtopic, or you can even start from a floating topic then drag and drop it to the place you want. Use Relationship, Summary, and Boundary for further information. We will talk more about their features highlight.
XMind 2020
ZEN Mode
XMind 2020 starts one of our favourite mode called ZEN mode, which allows you to concentrate and focus on the content without being disturbed.
Outliner
Switching between Mind Map and Outliner helps you to make your content logical, and neat. You can edit in one of them, and read the updates in another side. Outliner can also be exported to PDF.
Theme Editor (Subscribed Feature)
A feature that allows you to craft your personal theme. You can even customize quick style after subscription.
Enhanced Image Export
You can select different scale when exporting a single mind map, or the whole workbook with several mind maps. If you are using your mind map in Keynote or PPT, you can also choose transparent background for it. The best thing is, XMind 2020 supports SVG format, after subscription.
Equation Support (Subscribed Feature)
XMind 2020 supports LaTeX, a high-quality typesetting system features typesetting of complex mathematical formulas. Besides instant equation preview, you can also drag and drop your equation from one topic to another, and adjust its position and size in the topic for better display. Click to know what are the supported commands.
There are big and small surprises in XMind 2020, such as delete single topic, export workbook into different PDF, etc. It's user-friendly, and no matter you are new or old to mind mapping world,you can always have fun in it.
XMind 8 Pro
Brainstorming Mode (Pro Feature)
The new brainstorming mode allows you to classify inspirations in Idea Factory by groups. It enables you to discover clues by evaluating, organizing and connecting your thoughts. Then the solutions hidden will surprise you. The full screen mode helps build a stress-free scene for you to pay all attention to sparkles in your mind. Click here to see how brainstorming turns to be an exciting game.
Presentation Mode (Pro Feature)
XMind has a very powerful and helpful presentation feature. The Walk Through presentation mode enables you to view & present your ideas from topic to topic and get focused on each particular topic with the help of the darkened background.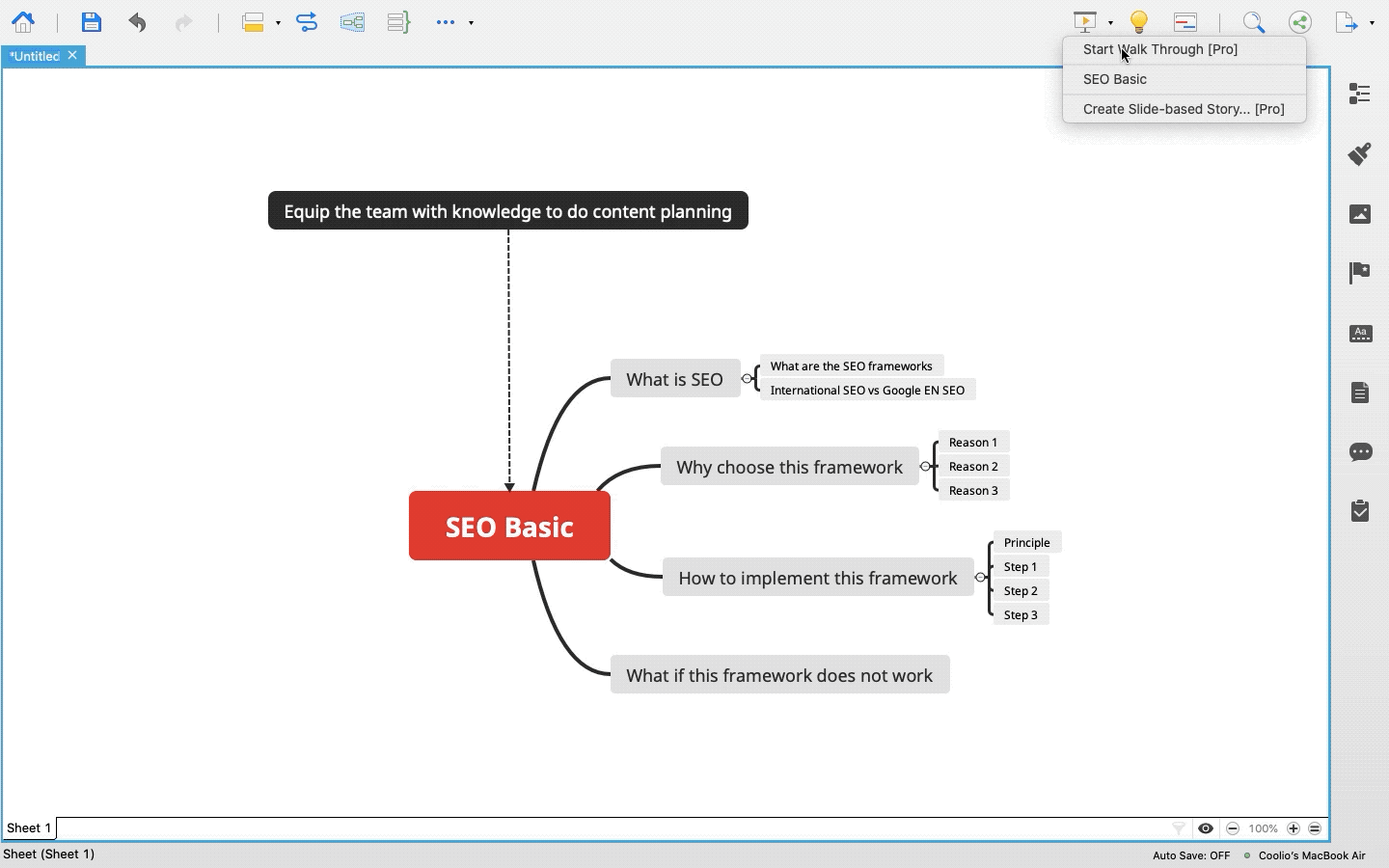 Slide-based Presentation Mode(Pro Feature)
With our new slide-based presentation, creating, presenting and sharing presentation become easier than ever. Just select the target topic and click the plus button and a new slide will be created automatically. Mind mapping and presenting are harmoniously integrated in one software now.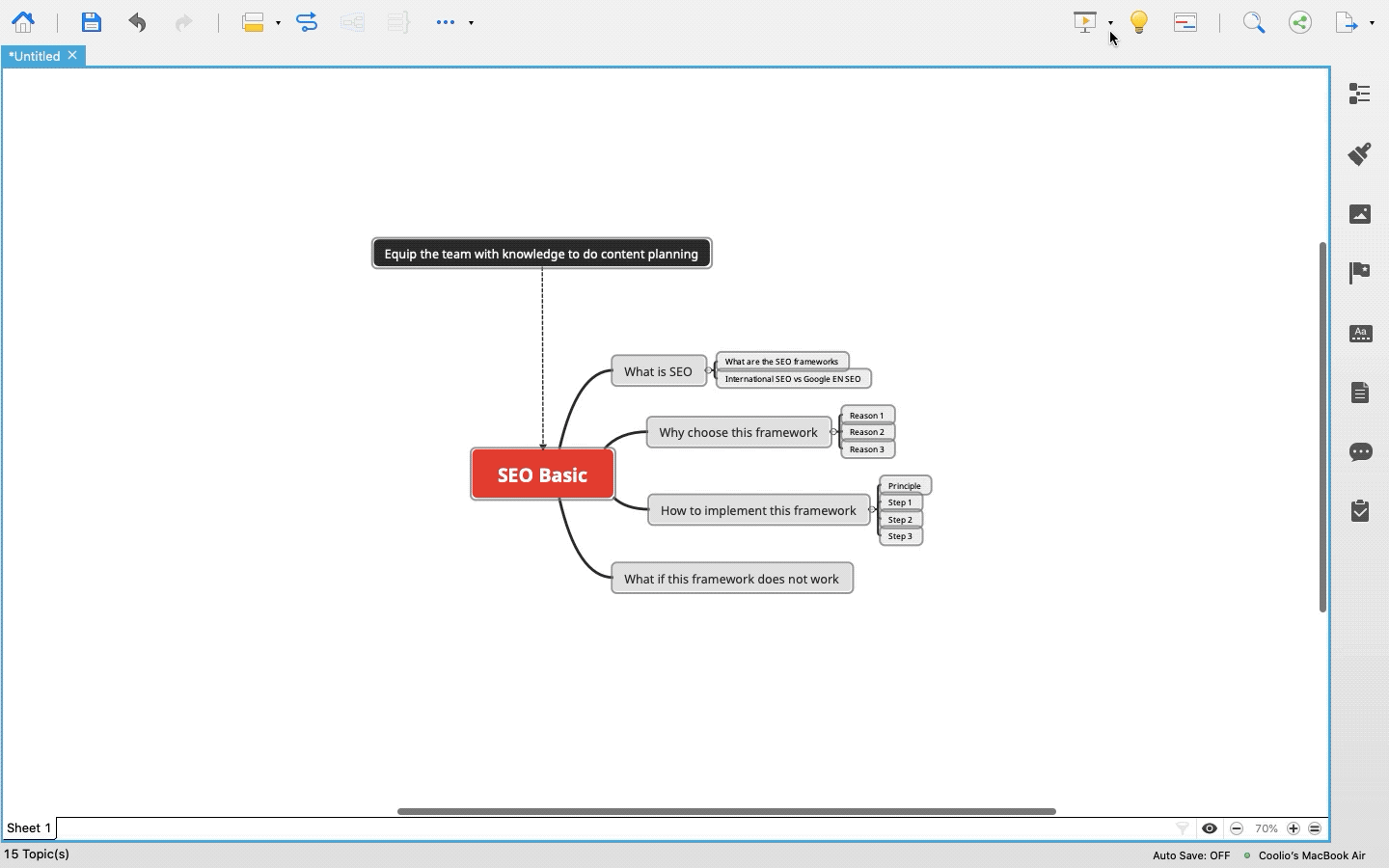 Gantt Chart (Pro Feature)
Effortlessly converting Mind Maps to Gantt Charts is one of the trump cards of utilizing XMind in project management. Gantt View shows start date, end date and progress of every task. With beautiful interface, fluent interaction, and improved usability, complex operations can be done directly on this view.
Running Systems and Devices
Both XMind 2020 and XMind 8 Pro can be run on Windows, macOS and Linux. You can edit and view .xmind files freely on different platforms.
XMind 2020 is a subscription software, and you can manage your subscription at anytime. You can enjoy 2 Macs/PCs in trial mode, and upgrade to 5 Macs/Pcs after subscription.
XMind 8 Pro is a pay once and use for a lifetime software. You can enjoy running it on 2 Macs/PCs after the payment.
Click Here to know more.
Try Xmind Free
Avinash Priya
Mar 27, 2020